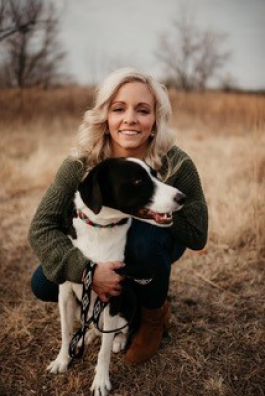 WHAT DID YOU DO BEFORE CROSSFIT?
Growing up I was always doing something active. I started out in gymnastics and playing basketball at a very young age. My brother and I would also competed in local track meets for young kids. When I reached junior high and high school age, I was competing in softball, volleyball, basketball, track & field, and cross country. Basketball was, and still is, my absolute favorite! After high school, I went on to Kansas State University where I was a part of the cheer squad for a couple of years. 
WHEN & HOW WERE YOU INTRODUCED TO CROSSFIT?
I was introduced to CrossFit during my time at K-State, where I received my Bachelors of Science in Kinesiology. My advisor was a CrossFit coach at Kstate CrossFit and he convinced me that I needed to try it. Once I was done cheering and started attending classes, I was hooked.
WHY DID YOU STICK WITH CROSSFIT?
Crossfit is the perfect blend of everything I love in the fitness world. It has heavy weights, gymnastics-style movements, cardio, odd-object movements, and more! There is very little equipment involved, which allows me to do it anywhere at anytime. I also love that it's never the same thing. That "unexpected" aspect keeps things exciting! 
WHY DID YOU DECIDE TO BECOME A COACH?
I always knew that I wanted to be a coach in some way, shape, or form. Being able to help other people in any capacity is very rewarding. With all the experience and knowledge I have gained through the years, I wanted to share it. Health and fitness is one of the best ways to "become your best self". My hope is to help people do just that! 
FAVORITE CROSSFIT MOVEMENT?
Thrusters, wall-balls, and muscle-ups!