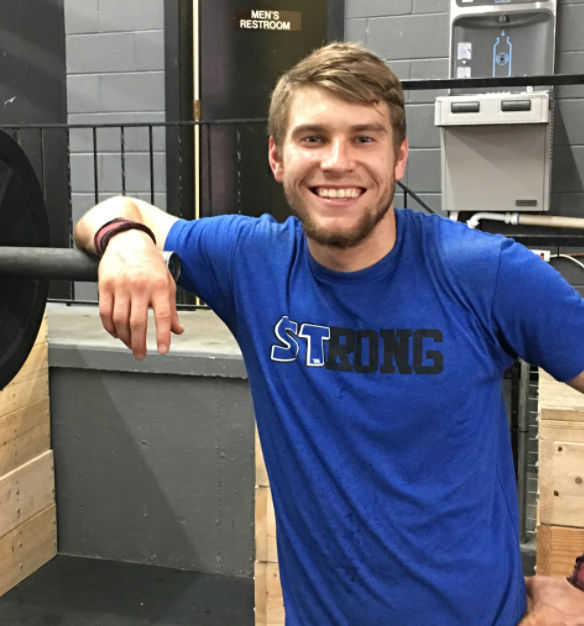 WHAT DID YOU DO BEFORE CROSSFIT?
Growing up I had always played sports, from kindergarten up until my senior year of high school, and when I graduated I knew I still wanted to something that challenged me and kept the competitive drive inside me going. It just went from competing against others, to competing against myself and trying to be a better version of me. And that turned into me lifting weights 5-6 times a week anywhere I could find a weight room. Before I found CrossFit I was mainly lifting at Missouri Western's fitness center in more of a bodybuilding/powerlifting type of training, nowhere near a CrossFit style of training.
WHEN & HOW WERE YOU INTRODUCED TO CROSSFIT?
When I decided to intern here at B-Fit for my 400 hour internship at Missouri Western my senior year of school is how I was introduced to it and fully understood what it is and what it is about. My first taste of it was during my junior year of high school when our football coach introduced us to an open workout from I think 2012, which was 7 minutes of straight burpees I believe. Needless to say I didn't quite enjoy CrossFit back then as much as I do now.
WHY DID YOU STICK WITH CROSSFIT?
After starting my internship at B-Fit and actually learning how to do the movements CrossFit entails I was just hooked. Also, me being the competitive person I am, having a leaderboard in the middle of the gym drives me everyday you could say.
WHY DID YOU DECIDE TO BECOME A COACH?
I knew in the back of my mind going into my internship here that it could lead to something more than being just a 400 hour rental, and after being around the B-Fit community and getting to know everyone on a personal level, there was no way I wanted to leave after my hours were up. And because I love all aspects fitness and nutrition, I knew that being a trainer would be an awesome experience for me, and it has been!
FAVORITE CROSSFIT MOVEMENT?
The squat or deadlift, 'simple' and straightforward movements that make up what CrossFit is!