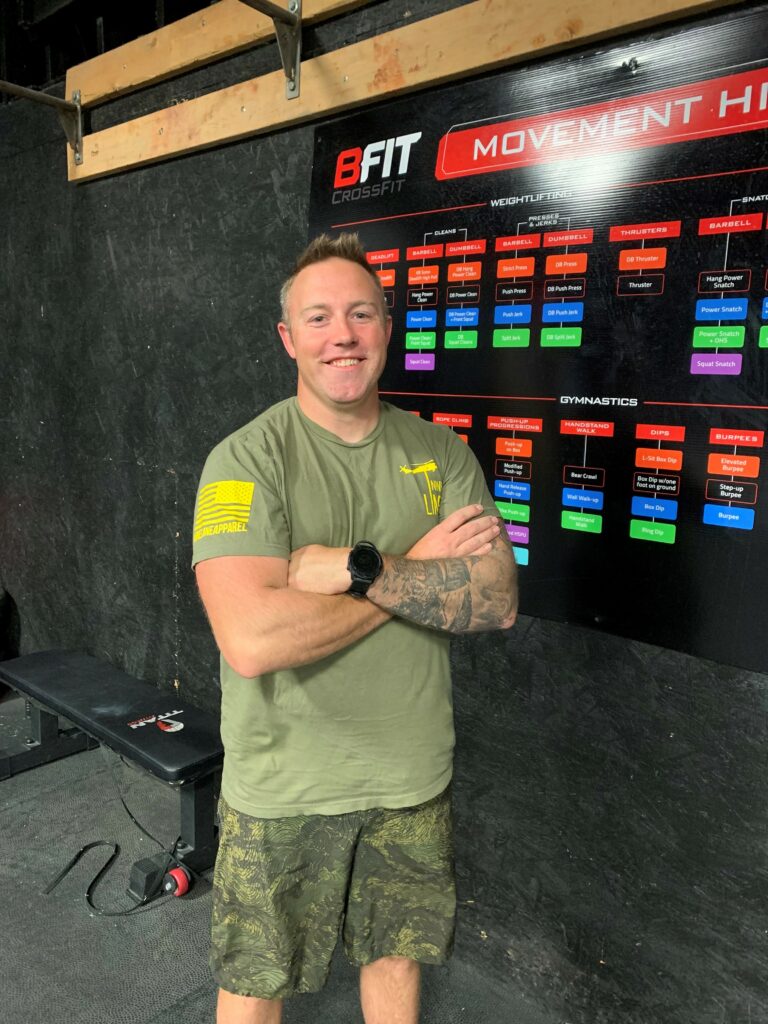 WHAT DID YOU DO BEFORE CROSSFIT?
I was a three sport athlete so fitness has always been important to me.  My workouts prior to CrossFit were usually either running or a combination of sit-ups and push-ups that were quite boring.
WHEN & HOW WERE YOU INTRODUCED TO CROSSFIT?
I was introduced to CrossFit in April of 2016 by an acquaintance. I came to one class and was hooked. Afterwards I signed up to start coming regularly.
WHY DID YOU STICK WITH CROSSFIT?
I was always skeptical of CrossFit. Once I started coming, I found I loved the community atmosphere of CrossFit and the intensity. I find the variation in the workouts fun and challenging. I almost immediately saw results in my lifting, mobility, and overall health.
WHY DID YOU DECIDE TO BECOME A COACH?
During my 2018 deployment to Afghanistan, I had introduced a few coworkers to CrossFit.  We did not have any formal coaches so I began taking on that role as the most experienced CrossFit athlete in the squadron. I loved the teaching aspect and being a coach has made me a better athlete. As a coach you have to be able to demonstrate movements therefore I had to perfect the movements before I could teach them.
FAVORITE CROSSFIT MOVEMENT?
Oddly enough, Bar Muscle Ups. It took me almost six years to finally be able to do one. It wasn't until recently that I was strong enough and had the body control. Now I can only do a handful but when they are done correctly, it feels like the planets align and then BAM!, you are on top of the bar. It's a great feeling of accomplishment and represents a huge milestone in my CrossFit journey.